Studio Pilar is a creative studio based in Rome since 2011.
We focus on art direction and consultancy for illustration projects, finding the best solution for each proposal and following every step from the first sketches to the final result.

We are Giulio Castagnaro, Andrea Chronopoulos, Giulia Tomai, Andrea Mongia - four award winning illustrators working for editorial and commercial clients1.

As a studio we've curated and organized

exhibitions
2,

book presentations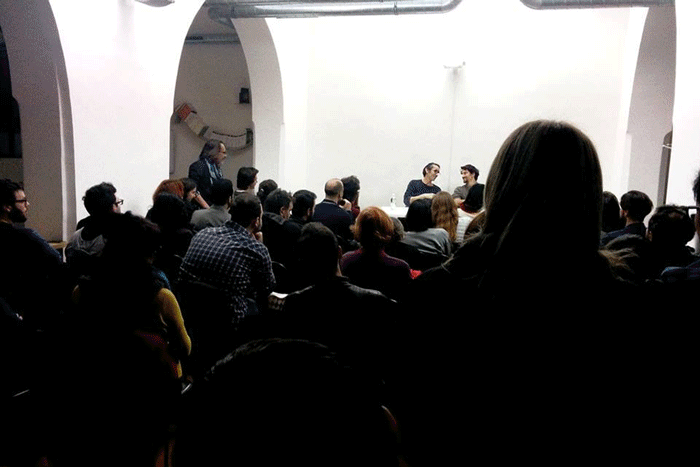 3,

workshops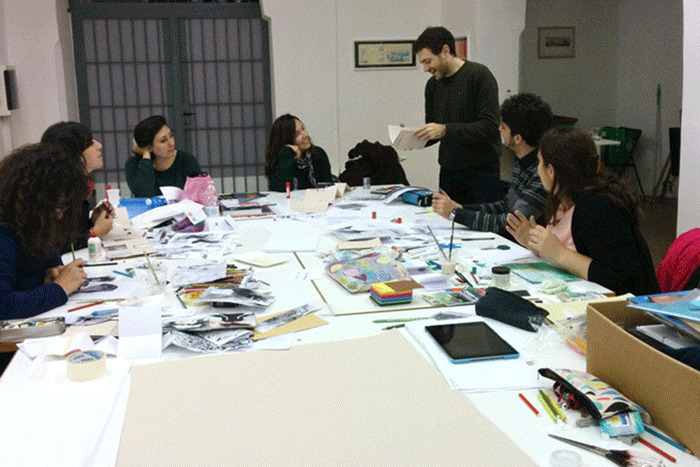 4 and

markets
5.
From 2011 to 2019 we've published zines, illustrated and comic books as Pilar Edizioni6.
From 2015 to 2020 we ran

Pilar Bookshop
7, an independent bookshop in our studio focused on illustration, comics and graphic design.
We are currently teaching8 illustration in many design schools in Rome covering each aspect of the profession, from theory to practice.

1. Our clients as illustrators include: Anorak Magazine, Architectural Digest, Arper, Assicurazioni Generali, BUR, Barron's, Battello a Vapore, Biancoenero Edizioni, Bloomberg, Bomba Dischi, BuzzFeed News, Daily Telegraph, DeAgostini, Domus, Donna Moderna, EL Edizioni, Easy Jet, Einaudi, Esquire, Feltrinelli, Fred Perry, GQ, Giunti, Icon Design, La Repubblica, Les Echos Week-end, Lufthansa, L' OBS, MIT Technology Review, McCann Erickson, Medium, Mondadori, Monocle, Mr Porter, Nespresso, Paul & Shark, Pentagram London, Pink Lady, Plansponsor, Poste Italiane, Psychologie Heute, RAI, Rizzoli, Sunday Times Magazine, Telecom Italia, The Atlantic, The Boston Globe, The Consulate General of Italy in New York, The Economist, The Guardian, The New York Times, The New Yorker, The Wall Street Journal, Timbuktu Labs, Variety and more
2. We've organized exhibitions by: Simone Rea, Jim Pluk, Gianluca Folì e Mauro Pietro Gandini, Pilar Edizioni, Squame, Inuit editions, Conor Stechschulte, Claudia Palmarucci, Marco Goran Romano, Associazione Illustri, BComics, Isola.
3. We've organized book presentations by: Gipi, Martoz, Fulvio Risuleo, Dottor Pira, Simone Rea, Jim Pluk, Ilaria Palleschi, Le Petit Néant, Associazione Illustri, Illustratore Italiano, Atlas Magazine, Squame, This is Not a Love Song, Isola.
4. We've organized lectures and workshops by: Riccardo Falcinelli, Simone Rea, Gianluca Folì, Martoz, Guido Scarabottolo, Andrea Baldelli, Giacomo Bagnara, Ale Giorgini, Francesco Poroli, Simone Massoni, Dottor Pira.
5. From 2015 to 2017 we've organized markets hosting illustrators, self-published projects, magazines and printmakers such as: BetterPress Lab, Squame, Inuit, ChickenBroccoli, Marta Pantaleo, Beatrice Cerocchi, Marianna Coppo, Marta Baroni, C41 Magazine, This is Not a Love Song, Attaccapanni Press, Atlas Magazine, CorpoC, Giulio Bonasera, Lab Aquattro, Marialaura Fedi, Estúdio Bulhufas, Clockwork Pictures, Just Indie Comics and more
6. As Pilar Edizioni we've published books and zines and took part to many festivals (Comic Arts Brooklyn, Treviso Comic Book Festival, Lucca Comics, BilBolBul, Arf Festival, Amsterdam Zine Jam, Cotonfioc Festival, Paw Chew Go, Crack!, Napoli ComiCon, Italianism).
Here you can see all the info.
7. Pilar Bookshop was a temporary bookshop focused on illustration, comics and graphic design inside our studio from 2015 to 2020.
We've hosted books by: Anne Vagt (DE), Basboek (NL), Birdcage Bottom Books (US), Blanca (IT), BOLO (IT), Breakdown Press (UK), Canicola (IT), Centre of Nowhere (SE), C41 Magazine (IT), Chicken Broccoli (IT), CorpoC (IT), Cuistax (BE), Delebile (IT), Diego Lazzarin (IT), Doula Editions (ES), Ediciones Valientes (ES), Elena Ortiz (ES), Extrapool (NL), Fosfatina (ES), Hedof (NL), Hisashi Okawa (JP), Inuit Editions (IT), ION Edition (FR), Illozine (USA), John Porcellino (US), KutiKuti (FI), Kuš! (LV), La Grande Illusion (IT), Lazy Dog Press (IT), Lentejas Press (ES), Lok (IT), Lubok Verlag (DE), L'Appât (BE), Mineshaft (US), NERO (IT), Orecchio Acerbo (IT), Palefroi (DE), Print About Me (IT), Re:Surgo (DE), Squame (IT), Sourire Magazine (FR), Strane Dizioni (IT), Stripburger (SI) and many more.
8. We've held classes and workshops at the European Institute of Design, Officina B5, Pencil Art, Idea Academy. We've designed the specialization course in editorial illustration for the European Institute of Design of Rome.